Viva La Vegan!
I have never been into Christmas. Mum will say that when younger I loved all the presents my sister and I received, and there were a lot of presents. Why were they never from my parents though? Just some mystical guy with a beard who decided if we were good enough, or not. If the presents were known to be from my parents earlier would I have appreciated them more when I was younger? Why does everything in our society seem to perpetuate the black vs white, bad vs good, Devil vs God mentality? I can just imagine how wonderful children whose parents have no money to buy presents for them feel...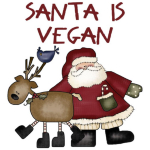 PURCHASE My Cruelty Free Christmas Recipes eBook HERE for AU$25
This time of year is hard for vegans. Where people see Christmas as a time of getting together to celebrate, a lot of us see the mass murder of our animal friends as nothing to celebrate. I for one cannot smile and celebrate with others who are delighting in consuming copious amounts of animals' flesh and secretions in front of me. I don't mean to be despondent, I really don't. As a Saggitarian with a Gemini Moon and Ascendant, I am always in search of the silver lining on all things in my life. Videos of Christmas music from Judy Garland and She & Him help for a few minutes. So here is my attempt to get through the Silly Season and my tips on how to survive Christmas.
Don't do the things you don't want to. This is quite simple in theory but harder to actually put into practice. Don't let people guilt you into doing things you don't want to do. This includes buying presents, cooking food, seeing people you don't like. You don't have to do (insert whatever it is) just because it's Christmas. Oh, and stop hanging around the people that say you do.
Stay away from Shopping Centres, people and places that will stress you out. It can't be just me that can't stand Shopping Centres. The fluorescent lighting, the crowds, the screaming kids, exactly the same shops in each different shopping centre, and knowing that the majority of people can't afford to buy the items that they have stocked their trolleys full of. Note: if you can't stand your in-laws but are going to see them over the course of the holidays, good luck with that ;)
Try not to argue or create conflict. Know which battles to fight and which ones where you should bite your tongue. Does fighting about (insert issue here) really matter? If you behave well and be gracious whether you are the host or guest and don't let other people bring you down you will enjoy your day a lot more.
Things to do:
Eat well, be healthy and don't overindulge in food you don't really need. Here's some mostly healthy RECIPES
If you have to attend a non-vegan Christmas event bring your own food with you. Not only will this impress the non-vegans (if you're a good cook!) but at least you know you'll actually get fed. This helps if the people who invite you to their place for a meal don't actually cook anything for you.
If you're having Christmas at your place this year, try to prepare and cook most of the meals before Christmas day. This way you can actually enjoy yourself and relax somewhat. If you're having a large amount of people attending ask that each person brings a vegan plate of food to share. If all this fails, go out to eat at your favourite vegan place, if it's open.
Put a dollar figue cap amount on presents. I don't buy presents for Christmas as I'm against consumerism an commercialisation but if you feel as though you have to, at least set a realistic figure that everyone can afford. Other options are to make/bake presents or to only buy presents for the under 18s. Buying memberships to Animal Rights organisations or sanctuaries, or donating money on behalf of others is also a lovely gesture.
Things that have helped me this year have been:
Writing a Cruelty Free Christmas Recipes blog with a lot of different recipes for people to try
Writing letters to Prisoners who are incarcerated due to their actions or their beliefs. There are many Animal Rights and Environmental activists in prison, please take the time to write to them or join a Letter Writing group. See my NFP Green Earth Group's Letter Writing events for 2012.
Outreach & Leafletting at this time of year is very effective especially as there's a lot more people out and about. There are some great flyers and brochures with vegan messages, if you don't like the ones that are out - make your own!
If you're on FaceBook or Twitter use this to spread the vegan message on mainstream Fan Pages. Share vegan articles, recipes, videos etc. Keep in mind that depending on the amount you do this may be considered spam and you may be banned from posting on pages for a couple of days. So I've heard ;)
Connecting with other like-minded individuals to do any or all of the above. The more people you surround yourself with who are like-minded the less obscure you will feel.
Also consider Volunteer work at Animal Sanctuaries or Homeless shelters, donating goods that you don't need/want anymore to others less fortunate.
I hope I've helped you a bit with how to make it through the Silly Season with dignity and some sanity! Good luck ;)
These links might help you:
My Surviving Christmas PODCAST

Tim Minchin's White Wine in the Sun video:
My Christmas Wishlist video:
If nothing else helps, this is way cute:
PURCHASE My Cruelty Free Christmas Recipes eBook HERE for AU$25
Details

Published: 21 December 2011
Site Translation
© Viva La Vegan!
2005-2022
This work is licenced under a Creative Commons
Attribution-NonCommercial-NoDerivs 3.0 Australia Licence